Build an Analog Theremin that Rivals a Modern Day Classic for about $100
Posted: 12/9/2018 2:58:11 AM
Posted: 12/9/2018 8:42:52 PM

I got the answer I was looking for, my pitch antenna method is a parallel arrangement as connecting the antenna base through a 3.3 mh high Q choke to ground completely stabilizes the theremin eliminating any external noise (50/60 hz) with perfect pitch field linearity.
The intimacy is so much better than the EWS something unusual is being experienced.
Edit: The waveform I am after would not develop correctly all the time, it was almost illusive. This Ant base grounding solved the issue like the oscillator was constipated without it, now it can breathe. Also the 900 khz is now not so critical, maybe 850 khz to 950 khz, I do not know the boundaries. I would think static discharge also gets its ass slapped into place. D took the antenna's name so you force me to call it the Becker Electrode Theremin Antenna or BETA electrode or The β Antenna. This phenomenon will be verified in January 2019, those involve will be part of theremin history.
Christopher

Posted: 12/10/2018 12:04:03 PM
"Build an Analog Theremin that Rivals a Modern Day Classic for about $100"

When making my first guitar amplifier, I started with the assumption I want to make the best guitar amplifier I can make and try to make it cheap. The reality showed me it is impossible to meat both goals. That because vacuum tube needs good quality components, and such components are expensive, especially the high voltage ones needed for tubes. It is more, just for the output transformer for a class B push-pull of 2 x 6L6, only the metal sheets to make it, if you want the best quality, was costing around 80$ at that time (in 2000). And to get the most out of the push-pull, you need an EL84 driver with a class A transformer, which is also costy, and a third transformer for the supply. That imply to make a cheap theremin or whatever device, I will not be using vacuum tubes but transistors. Another advantage of the transistors is than the chassis can be cheaper. Tubes are relatively big, heavy and fragiles, which imply you must have a first class chassis on the long run, and that also have its cost.
Posted: 12/12/2018 5:45:41 PM

I figured out a few more things this week that I did that are somewhat original.
This approach I used with my vacuum tube and solid state theremins. That is how I got from 100v down to .6 volts, induction coupling. After I finish re-doing the PDF to make your own circuit boards I will have to leave it to someone else to redraw the schematic. If I could in my autotrax DEX software from a schematic a button is pressed and it layouts and makes the circuit board 3-D graphic to gerber files, seems cool to me. I have evolved with them over 15 years.
I have a sound texture knob which goes from a smooth sine wave to really edgy violin. This is done passively with the mixer.
Christopher  

Hwy79.com
The hardest thing for me to learn how to do, the two oscillators must not know the other exists, jealousy!
The extremely low diode current keeps the response sluggish or I like to think it does.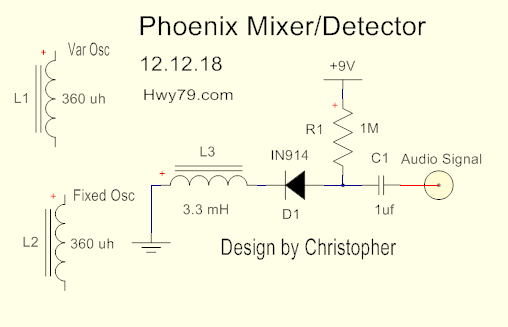 Posted: 12/13/2018 12:41:12 PM
Phoenix 2020
                                                        "Mounds of human heads are wandering into the distance.
                                                         I dwindle among them. Nobody sees me. But in books
                                                         much loved and in children's toys I shall rise
                                                         from the dead to say the sun is shining."
                                                         Osip Mandelstam of Russia 1891-1938