New logo concept
Posted: 7/4/2005 1:29:54 PM
Posted: 7/4/2005 2:04:30 PM
Posted: 7/4/2005 5:40:15 PM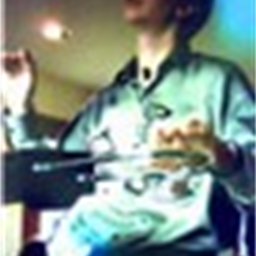 Jason, I like your new logo with the simplified continents and "tribal dude." It would be a good logo for the site. It might be fun to open the logo design up to thereminworld members and possibly have a new logo each month. Just an idea. Thanks again for a really cool site.
Posted: 7/4/2005 6:27:14 PM
Jason, I like the design.
Otherwise, the words will not be able to be readen from far away (I mean, when you use it on another places differen from the web itself-logo gear and so on).

I really like designing too, so I think i will think, draw and send you something in some days (maybe next week) that, maybe, could give you some ideas.

(BTW, you have an email from me waiting for an answer into your account ;) )

Posted: 7/4/2005 9:13:38 PM
Thanks for all the feedback. I may keep the little guy for a t-shirt design, but I agree, the text would be hard to read from a distance. the character is Kokopelli, an Indian tribal figure rumored to love the sound of his own music.

I got a few responses to my call for artists, but none have really fit the bill so far. I can't afford to pay much for an artist yet, so I thought I'd give it a try myself. I'd love to see any ideas you folks have. the general idea is to reflect the ''world thereminization" concept.

A new logo each month is an interesting idea, though it might consistent branding a bit tricky :)
Posted: 7/5/2005 12:42:34 AM
Posted: 7/5/2005 8:25:40 AM
It's been a while since I looked at the artwork samples, but most of them seemed to be "art" rather than logo-related. Perhaps I should take another look, though I'm not sure I have all the e-mails still.

I've been using the free demo of Microsoft Acrylic to draw the logo in .rpx format, then export to .eps and .gif as needed.
Posted: 7/5/2005 11:27:48 AM
I applaud the effort...it's just not my style
The kokopelli thing is a little too world music/Enya-ish if you know what I mean. The script too is a little soft around the edges font-wise. I guess some graphic and font choice that conveyed a more futuristic effect and was a bit more Bohemian...obviously easier said than done.
I'll think on it.
Posted: 7/5/2005 4:08:58 PM
I get your point. Thanks for the feedback. What if we took the idea of a new logo each month and modified it to be "variations on a theme". We take the globe theremin idea and apply it to various musical/cultural genres. Maybe a Russian industrial concept, a classical music concept, the "tribal" thing, etc. The main site logo could be a simplified version of all of these.

What's driving the urgency here is the upcoming theremin festival. I only have a few days left to place my order for some promotional products to hand out, and I was hoping to have a new logo decided on by then. I'll probably use a variation of this logo for those items as a festival specific logo, then spend more time thinking about a new logo for the overall sight.

Keep the feedback coming folks!