Sorting through the last of my collection of electronics mags I am having to dispose, I came across a DRM mixer circuit in Elektor 7-8 2005..
I was puzzled because it didnt have any HV, so checked the data sheet for the tube, and it looks like it might just work down at 6V..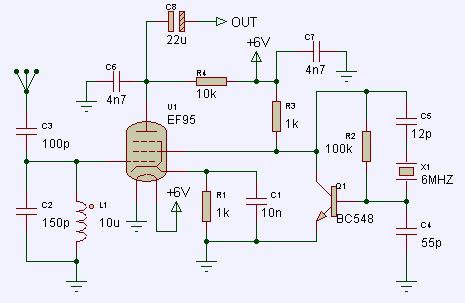 My thinking is on these lines - If it works at 6V, it should certainly work reliably as a mixer at 12V.. Two tubes with their heaters wired in series, one as a mixer, the other as a pre-amp (or VCA?) driving a small audio transformer (perhaps also replace R4 with a small aidio transformer) , and one may have a really simple way to the "valve sound" without all the hassle of a HV supply (one could run the whole thing from an external 15V or 18V SMPSU  fed into filter and 12V linear regulator)..
You would need transistor oscillators etc to make a full theremin - but the sound IMO is mainly the product of the mixer and following stages..
(oh - this tube [ EF95 / 6AK5 ] seems quite common - I found some NOS @ £6 each, and plenty NOS @ <£15 )
One other thing - My knowledge / expierience of tubes is minimal (perhaps even dangerous!) so anything you do relating to the above is down to you! - I can offer no help, advice or consolation! ;-)
Fred.
ps - according to the article the antenna signal in the above circuit is  tuned to 5990kHz, mixed with the 6MHZ local Xtal oscillator and the output is 12kHz (?) .. Whatever - I suppose its close enough to the expected 10kHz, or they aproximated the frequencies a bit... R1 can be between 0 and 1k, and sets the operating point / grid bias..
pps.. Looking up RTL2 DRM to find out what it actually was (ie, understand it, LOL ;-) I actually found the schematic from the Elektor article..
http://circuit-electronic-models.blogspot.co.uk/2012/09/drm-direct-mixer-using-ef956ak5.html