Moog Theremini firmware update now available
Posted: 12/24/2014 8:19:52 PM
Posted: 12/25/2014 1:18:23 AM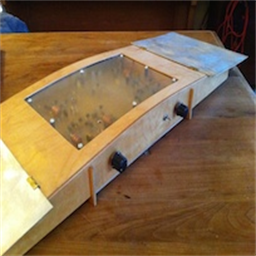 ho-ho-hoo....installed it right away and:...it's funny to see how the display sometimes flips upside down, and even mirrored!? good goblin..happend that to others too? i did only a crude setup, just to reach the usual theremin mode asap. oh yeah,the knobs for volume and pitchside are reversed, but indicated with an arrow on the display so one will know wich is wich. nice to have the hard missed zero-beat zone back!  i expected a brightness control instead of contrast, but maybe i missed something. this  contrast feature was already available by some special key sequence. see chapter 1.4 of the pdf. are there still some hidden features, only accessible by special knob-code pushing secrecy? a hidden advanced-advanced setup? (well, better tell know, because our santy-claws here has a evil follower...)lol. everybody knows there is. 
yeees, it's a  improvement, as jason mentioned. but also clearly  a necessity.  i'm not the fastest right handed player anyway, so i can't really tell,  but it feels more etherwave than before on linearity. running it on the fast-line brings a better response. but it might be still too slow for  them  masters i guess. me wonders.
i still feel not cosy with that cute little gestural controlled anisowhateversyntheremin. to new, but so far my first impressions. neither cv nor midi tested, but the cv features sound cool so far. 
while the sysex was busy, i realised, that i forgot to save the already changed presets on the ipad,but all the voices where untouched after the reboot! makes me scratch my eraserhead. i'll sysex it some other day. maybe the display behaves nicely too afterwards. mac/win editor sometimes?
in fact i have a good time and just roflmao.
and one for the beta tester road: the announcement of that update could have easily been mentioned earlier here, or even privately messaged to the ee's department. hey between members, i thought that's possible. without calling some hungerdunger hungerdunger,hungerdunger, and mc cormick. uh did i miss a hungerdunger?
cheers and such to all 
 2hours later edit: as somehow expected: reverse the volume hand position procedure=reversed volume response. use it as a bongo if you like. while in theremin mode: the volume knob adjustement is somehow odd. sorry can't describe it more undestandable: it acts more like a overall volume control then a "field shrinker- strecher" for the  0-full volume field. as on analog theremins. after a hard factory reset and the rest of the update, the display hoax has not disappeard. :(