After this subject was brought up in another thread it made me wonder… could the ThierryMin also have a perfectly linear pitch field. Being this is a popular build, what a nice feature that would add.
If this works you will be able to develop your pitch arm technique with precision playing like using a $6500 Epro but for under $50. You can add any of several other proper volume control methods later, which are a little more complicated but still under another added $50.
Major Edit: I have always avoided using FET's. What I found in building the ThierryMin is linearity is possible at 450 khz. I was only getting three octaves max using the FET as they seem too gentle and I need much more energy driving the Electrodeum to get five linear octaves, this is a clue. Also with FET's I have no control over thermal drift which can be eliminated using NPN transistors, I will show you how. I did learn a lot from the ThierryMin build and will post a video of the FET two or three linear octaves I was getting by the end of the week.
I have already laid out a new board design using NPN's and will post that also this week. I do not model so I can experience electronics that work in reality.
Using NPN is still as easy and cost effective as building the ThierryMin for $20 and would recommend this in the future. I will create a webpage for it all.
Christopher   
This is the original ThierryMin using two 3.3pf caps without my L3 Choke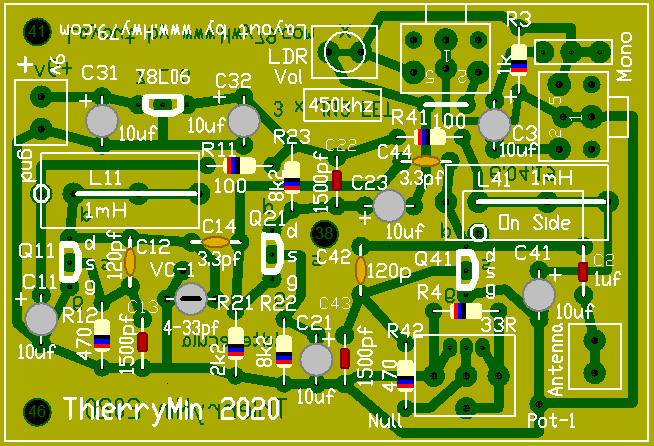 .