Hello Tanner, ElektroUwe and everyone,
This volume control design was developed from the research of elektrouwe of Theremin World & Kulturgüter-Schuppen
Aside from any errors this configuration should work, study the layout.
Webpage folder with this forum post information and more details. 12 megs
Iron-on PDF - printout for test board making, the above webpage also included in this folder. 13 megs 
Gerber Files - for Volume Control 3 x 5 board, always check the date for the most recent. 9/16/23
Mouser Parts - List about $25 of stuff. On the list for $5 more are two drill bits. .033" & .052"  Total = $30
A PCB is like a sculpture in that you chip away at it.
      
      Added a Mute switch.
      Added a Pitch Preview Jack
      Added Null Point LED indicator, great for tuning when mute.
      Added Volume direction reversing
     Optional - a 5pf variable capacitor C9 Blue is added to the board for easier fine tuning from Amazon or ebay
     
     Vactrol VTL5C1  ebay The higher numbers are too slow. Like 5C2 & 5C3
The way I understand things switching ground, yellow with green wire determines if approaching the volume loop Volume goes from On to Off or else Off to On.
I tried the LM2907 configuration on page 15. It may need to be modified slightly.
The green LED should be On at Null indicating sound can pass through, LED dims when the sound is reducing.
A TRS Jack is used so a break out cable can be used. Plug the TRS side of the cable into the board and one mono plug into the sound source and the other end into an amplifier. Terminals can be used in place of TRS jacks.
This was fun for me and I wish everyone luck. I make no claims you will succeed as it's a theremin, you must be invited.
Christopher

3" x 5"  or  76mm x 127mm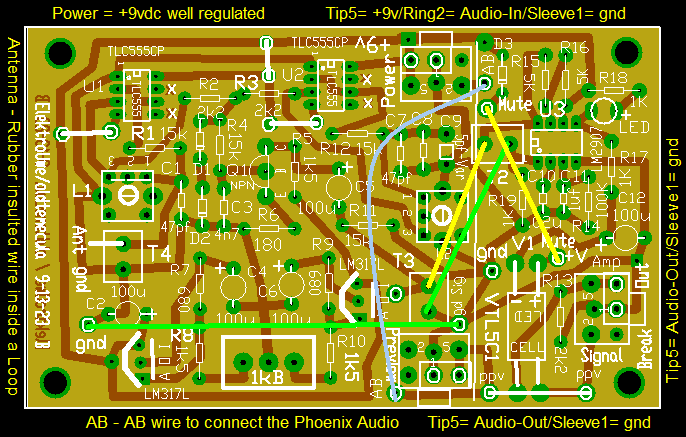 Left side of board above 
schematic
- Below is the right side of the above volume section -
Used 
TinyCad
to make this schematic on left of my add-on Volume Control parts.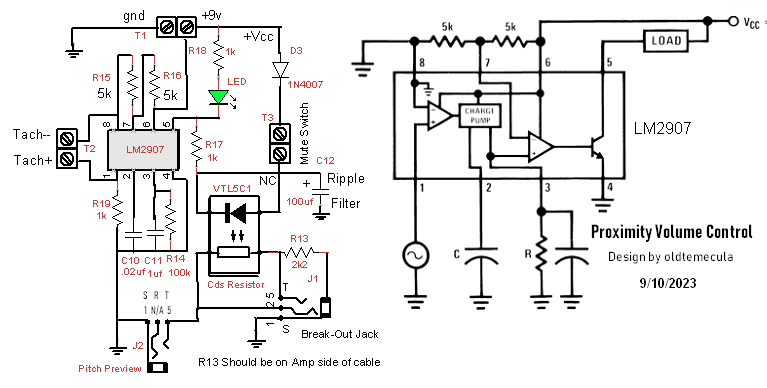 Below is what the Volume Control with the proper Theremin Phenomenon design gets you for about $100 in parts.
The swan song is a metaphorical phrase for a final gesture or performance given just before retirement or death.
Performed by Valery Shamarin on the Phoenix Theremin - Christmas 2020

The Phoenix Pitch Board is $70 in parts. Now being studied at MIT along with the Electrodeum pitch antenna.