Moog Melodia
Posted: 11/2/2014 1:00:33 AM
The entire Melodia construction manual (minus pages 1&2) is in the photo album section.
Posted: 11/2/2014 2:09:01 AM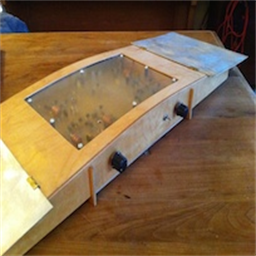 Thank you so much, for scanning these documents. and for the transistor info,too. it looks more and more, like one could build one these days. beside some other, not so relevant questions,: there is still the "L"factor. i mean, to me, these adventurous looking constructions are the most hard to understand part. must be the henry thing... not even to think about building them. so, how could these inductions be replaced by today-parts? (my hobbyist instinct say's :-(,because of the physics, but i might be wrong) or how difficult are those to build anyway. anyway, i'll have to read that manual first.. maybe one of my better ideas today.
Posted: 11/2/2014 12:36:28 PM
Posted: 11/2/2014 4:00:27 PM
Digikey part number 182K-ND is an aluminum battery holder for 4 AA cells.  I put this in my melodia instead of the original aluminum holder which takes an unobtainable battery.  It fits fine and looks like it belongs there.
Rob, your melodia is like mine, a later model with the circle and note logo.  That was a beautiful performance; you've come a long way.  Ten years ago I used to flatter myself into thinking I could play almost as well as you. Not anymore. Heck, I don't think I could even memorize all the notes, let alone play them! Well done!
Posted: 11/3/2014 3:34:53 PM
Duh, I thought I looked there. Oh well, thanks a lot for the heads up. I'll post pix when my clone is completed.
Thanks again,
Doug
Posted: 11/3/2014 4:29:58 PM
BTW did the fellow who offered to scan pages 1 and 2 ever follow through ?
D
Posted: 11/5/2014 3:31:25 AM
Doug, you are probably thinking of my offer to scan the 2 pages with the schematic and parts list.  That developed "mission creep" and I wound up scanning the entire manual.  I did hear from the Cornell library; they say the Moog archives have not arrived yet.  They are being appraised and Cornell hopes to receive them in several months.  I have a fantasy of finding the original circuit for the melodia hand drawn on the back of an envelope.  That's not gonna happen, but it will be interesting to see if there is anything about the melodia.
I've added a photo of the Digikey 182K-ND battery box that I put in my melodia.  It looks like it belongs in there, as it is built like the original was.  Note the wire from negative going to the switch and a wire from positive going to ground.
Posted: 11/5/2014 3:34:37 PM
Thanks for the info. I appreciate it.
D
Posted: 3/19/2017 2:52:16 AM
I found the missing two pages of the manual (in the pictures of an ebay auction of all places), cleaned them up and added them to the photo album called "Moog Melodia Construction Manual".  There is a modification mentioned on page 1 that is not in the previously posted schematics.  It adds a 27 pf  capacitor between the collectors of the pitch oscillator transistors.  This enriches the tone quality by increasing the coupling between the oscillators.
(edit) People have said how nice Rob Schwimmer's Melodia sounds.  I know for a fact that Bob Moog himself did some work on Rob's Melodia, so you can be sure this capacitor is installed.  Mine does not have the capacitor.  I will be installing it in at some point and will report on whether it makes any difference.  Maybe if I were as talented as Rob I wouldn't need the capacitor....
Posted: 3/23/2017 2:50:57 AM
Just saw a completed listing on ebay for a Melodia that sold for $1523 back in December 2016!  Holy smokes! And to think that I traded a bottle of whisky for mine!  There are some good pics of the instrument and one of them clearly shows the 27pF capacitor mentioned in the post above.  This is not shown in the published schematics but evidently Bob Moog felt it was a worthwhile modification.