Hi all,
The main area I have not developed in my research is a quality yet practical volume control printed circuit board. Once that is done I would not need the $96 EWS circuit board. The wood box and antennas are nice though!
Things I do not like about the EWS are the sound and second the use of a split power supply. This makes busking a little more challenging. If it was designed around a single supply of 9 volts dc it becomes more practical in all countries and not just an engineers wet dream.
You could easily use solar power, look mom no batteries.  (-;
Through serendipity long ago I found thermal drift could be nicely controlled by simply using TO-92 transistors that had a higher junction breakdown voltage. The ones I use in all my oscillators are rated at 300 volts. I tried some rated at 1000 volts and they were too stiff like the people who are trapped in the limits of computer modeling. The theory of why this works I leave for another conversation.
My not being the sharpest marble on this TW board allows me to ask a question. Is there any reason the schematic below could not be reduced to a single supply using a single transistor instead of using three?
The purpose of Q7 I have never been clear about, a mirror effect, what benefit does it add? Thermal drift?  Being in a two week wait period for my latest pcb maybe I will try to draw something up.
Does the capacitance of D1, C12 with L7 form a parallel tank circuit to match the Q6, Q7, Q8 frequency?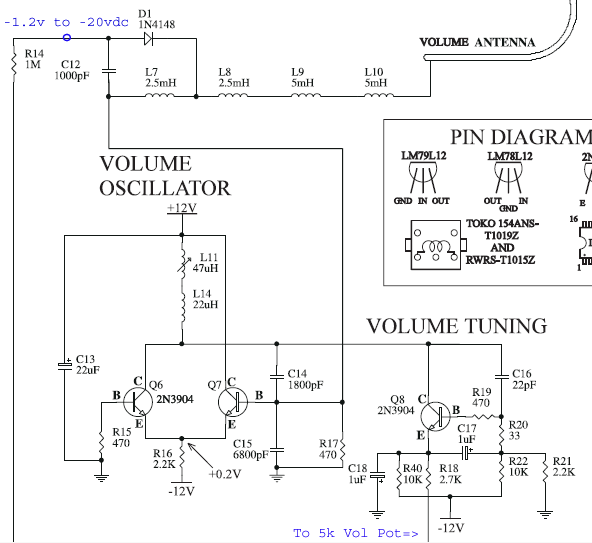 Christopher